Cobalt Boats Founder and Chairman Pack St. Clair Wins Ernst & Young "Master" Entrepreneur of the Year Award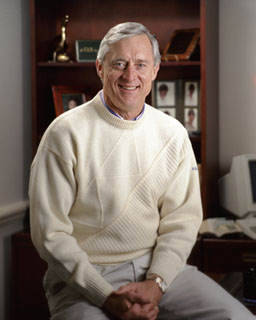 An independent panel of judges composed of regional business, academic, and community leaders has chosen Pack St. Clair as a winner of the Ernst & Young Entrepreneur of the Year® award, recognizing business leadership among companies based in Kansas, Missouri, Iowa, and Nebraska. Mr. St. Clair's award came in the "Master" category, honoring businesspeople that have inspired other entrepreneurs with their vision and their achievements over the years. Pack will now move on to Ernst & Young's national competition in November.

In announcing his father's selection, Cobalt President Paxson St. Clair said, "We owe our success to my father's unwavering dedication and his innate ability to turn a challenge into an opportunity. In the early years, he created demand in a niche market by creating the dream of luxury runabouts. Today, we are a nationally recognized leader in our industry, a testament to my father's vision and his commitment to the company and its employees."

The Ernst & Young "Master" Award is given each year to the entrepreneur whose business performance not only demonstrates success in building a quality brand known world-wide, but one that also has held a market leadership position through all types of economic conditions. To be considered for the award, companies must demonstrate creative thinking and innovation, market leadership, care for employees, community responsibility, and the ability to maintain high brand loyalty and financial performance during both strong and weak economic conditions over a sustained period of years.

Now in its 24th year, the program recognizes business leaders in 135 cities in 50 countries, entrepreneurs who have demonstrated extraordinary success in the innovation, financial performance, and personal commitment to their companies and to their communities.