Arrowhead Marine Named Top Cobalt Dealer for 2010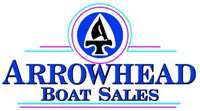 Arrowhead Boat Sales, with locations in Oklahoma and Arkansas, has been named the World's Largest Cobalt Dealer, recognition that comes as a result of performance in both sales and customer service. In addition to a stellar sales year, Arrowhead achieved a near-impossible 99.62% on Cobalt's Customer Satisfaction Index, a sweeping appraisal of a dealership's work, ranging from the service department to the sales floor to the on-the-water training of the boats' new owners.

With 154 years of collective experience, the Arrowhead sales team operates with a work ethic that Cobalt founder Pack St. Clair has called "one of the hardest working sales teams I've ever had the privilege of working with." Arrowhead's owner Joe Harwood himself has been involved in the boating industry for 43 years, Joe began his marine career at Bomar's, one of the earliest of Cobalt dealerships. Now known as Arrowhead South, Bomar's Marina was also a site for testing Cobalt performance and endurance. The veteran Mr. Harwood understands full well the difficulty of excelling in both sales and service. "I am so proud of our team for earning such a high customer-approval rating during a year in which we sold more boats than any other Cobalt dealer in the world. In most cases, as sales volume increases, customer service tends to slip a little. Volume makes one-on-one customer service more challenging, but we have been able to meet and exceed expectations of our very discriminating customers."

Like many of its fellow dealerships, Arrowhead is experiencing strong summer sales of the new Cobalt A25, destined to change perceptions of what a boat can be.