The Cobalt 200: All That A 20-Footer Can Be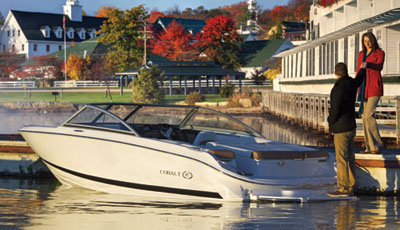 Ancestry matters.

As demonstrated by the new Cobalt 200, ancestry matters in just about every meaningful way affecting an owner's perception of what a 20‐footer can be. Let's begin with performance. Every inch, every ounce a Cobalt, the 200 arrives in direct response to the needs and wishes of experienced boaters who know exactly how a boat should accelerate, should jump on plane, should hang true and tight in the turns. The 200 will deliver chest‐thumps and heartthrobs with a V‐6 engine, will do so handily, while creating wallet pleasing fuel efficiencies. Designed in the direct lineage of the legendary Cobalt runabouts that, model year after model year, have pushed at the horizon, have demonstrated to an entire industry the day‐to boating‐day meaning of innovation, the 200 will show the most discriminating boat‐buyer nuances of design and construction, instances of effortless performance once thought possible only in far larger boats.

Let's talk comfort. Which is a function of room. And so the 200 creates walk‐about, lay‐about spaciousness at every turn, with storage waiting essentially everywhere, large and easily accessible bins and chests and lockers and compartments with interior fit‐and‐finish that most boats would be proud to show on exterior, fully visible surfaces. Look under the port lounger, just behind passenger seating at the console – enough room for several wakeboards, skis, and scuba gear – and, fore of the windshield, stowage for lines. But those touches mean convenience more than comfort, so let's take a seat. Feel first‐hand the textures of the 200's interior, the unmistakable luxury of the 200's seating which – in its warmth and beauty, its configuration and its deep‐down support – really does approximate your favorite indoor spaces. "Varadense" is the technical term explaining Cobalt foam and its application to our seating, its ability to ensure daylong, deep‐down comfort. Here's a cockpit layout that cries out for conversation, quiet talk among friends and family brought together – captain and 11 lucky guests in a boat that makes room for all of life's best moments, from the wraparound bow to the 200's chaise lounge astern, hand‐sewn and double‐welted upholstery all the way. A walk‐thru entry eases movement at the bow, ditto at the transom, adjacent to a sunpad that adapts at a touch from tanning salon to safe, secure seating for a hard charge toward an early dinner. Carpet throughout is 40‐ounce, snap‐in, with a neoprene backing.

The digital enhanced instrumentation on the 200 is as imposing as it is purposeful, from its switches in stainless steel to the custom stitching covering the eyebrow on a helm of composite construction. The dash panels shine in polished aluminum. The steering wheel, long a Cobalt hallmark, comes in black leather and stainless. Naturally, the 200 incorporates another Cobalt standard ‐‐ the flip‐lip seating at the helm with its multi‐position comfort, support and safety. The options here are meaningful, wellchosen in their navigational aid, a GPS/plotter most of all, with its in‐dash touch screen. Let's listen here: to the 200's standard AM‐FM iPod stereo with six high‐ end speakers strategically placed for maximum audio impact. Stereo controls wait at both the dash and the glove box with the optional premium sound system, bringing along a strong argument for the thump of the subwoofer, which comes with this option.

Let's forget practicality for a moment. Style, pure and simple, has its place in any truly great boat, and the 200 does not disappoint. The sculpted hull speaks for itself, while the long, purposeful lines sweep and flow to catch a perfect light. Here's a profile classic in every subtle detail. Let's address classicism in a broader sense, in terms of the Cobalt innovations that have over the years become industry standards. In fact, the 200 will now become itself the willing model for imitation. Imitation that is ‐ for copycats who will try again to mimic the genuine improvements in a 20‐footer that goes out to sea with the uncompromised integrity of design and construction that has guided Cobalt boat‐building for almost 50 years now.

Look here at these graphics molded into the fiberglass, classic two and available three color graphics, glorious and unfading, brilliant today and brilliant tomorrow, yet another standard Cobalt way of doing things. And supporting the 200's enduring good looks is bedrock stability arising from the fiberglass stringer system and cockpit liner overlaid with aerospace‐strong composite floor and transom. Kevlar reinforces the hull. The windshield brace is stainless steel. Cobalt standards, all.

Perhaps no detail of Cobalt construction says more about the overall quality of these boats than the aluminum backing plates that anchor every mounting point for hardware ‐‐ from the bow scuff plate to the side‐rails to the seat pedestals to the swim ladder. Wherever exterior hardware adjoins the fiberglass, an aluminum plate lies embedded just below, with tapped or threaded connections to guarantee that bolts will not strip out, as is almost always the case over time with hardware mounted to fiberglass alone. Look again at the cleats amidships, where again stainless steel hardware is standard‐‐ no plated pot metal or plastic as is so often the case with other boats.

As we say, ancestry matters. And so the Cobalt 200, yet another boat from Neodesha, Kansas knowable, now as always, by an absolute refusal to compromise.

Anything.