Cobalt Introduces the 37, the Second in its Line of Yachts.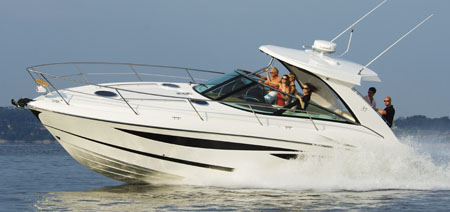 (NEODESHA, KANSAS – NEW FOR 2009) The transfer of all production back to Neodesha complete, Cobalt Yachts announces the introduction of the 37, now the second boat in the line, as manufacture of the Cobalt 46 resumes in spring, 2009.

The 46 and the new 37 will at first glance seem nearly identical, their classic lines flowing along bonded side windows extending the entire length of the hull. With all the creature comforts of far larger boats, accented by megayacht-standard custom cabinetry, the 37 makes every best possible use of interior space. Case in point: the two full beds with conventional mattresses in lieu of the convertible cushions of a settee that other manufacturers term a "midberth." A solid panel secludes the master stateroom, opening and airing the cabin. The overall efficiency and roominess of interior spaces arise in large part from Cobalt's willingness to use multiple, complex molds in the fabrication of parts, leading to designs simply not possible to manufacturers restricted by their insistence on simple, unimaginative molding.

Designed and engineered to exacting specifications for open water performance and saltwater durability, the 37 underwent an elaborate offshore-testing and engineering- validation program prior to production. Like its big sister, the Cobalt 37 has been built for today's rough water, ready to take on the traffic in coastal waters and inland lakes alike. Where competitors are quick to speak of "value-added engineering," a euphemism for the subtraction of the very best materials from a boat's construction in an effort to keep costs down, Cobalt has beefed the 37's design, calling for high technology in both materials and their application. The full-length stringer system has been reinforced with carbon fiber, laid up with vinyl ester resins, the solid fiberglass, Kevlar®-strengthened hull bottom a full _" thick. The structural bulkheads, of total composite construction, are vacuum-infused. Whalebones compound overall sturdiness.

Per Cobalt Boats CEO Paxson St. Clair: "Obviously, Cobalt has committed to building yachts for the long haul." Both the Cobalt 37 and the Cobalt 46 will be on display at the Fort Lauderdale International Boat Show, October 30 – November 3, 2008.