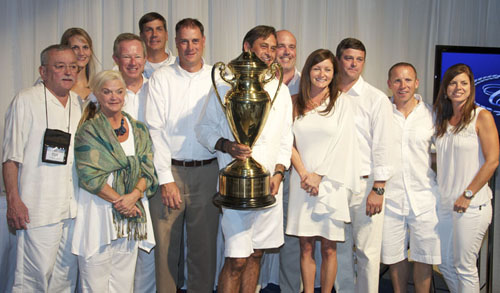 Cobalt recently completed a very successful worldwide dealer meeting at the Coeur d'Alene Resort in Idaho. Over 400 Cobalt dealer participants from across the US, Canada, and other International locations traveled to Coeur d'Alene. "We are fortunate to have almost 100% attendance from our dealerpartners who take a few days out of their schedules to attend our meeting" says Paxson St. Clair, CEO of Cobalt Boats. "Our host, the Hagadone Corporation, is not only a Cobalt dealer, but they own the resort at Couerd'Alene, which provided a world class customer experience for all of our guests. This year we welcomed not only a huge percentage of our domestic dealers but were pleased to have nine dealers from Europe, South Africa, Australia and Latin America. The meeting was the world premiere of four new models. Our dealer partners are enthusiastic about the prospects of the upcoming selling season."
In addition to the business at hand, the top dealers were also commended for their year's accomplishments.Cobalt Boats is proud to announce the recipients of the 2012 model year dealer awards. This prestigious recognition of the outstanding service and total dedication to customer satisfaction by the Cobalt dealers remains a key highlight to the company's annual dealer event. This year's awards for excellent Customer Satisfaction Index ratings, Top Ten Dealers, Rookie of the Year and World's Largest Cobalt Dealer were presented during the meeting.
Cobalt's customer survey program, implemented in 1975, has proven to be a great tool in tracking product as well as dealer performance. In 1995, further developing the use of customer survey information, Cobalt initiated a Customer Satisfaction Index (CSI) for every Cobalt model as well as every Cobalt dealership.
The Top Ten awards are based on a combination of the CSI score and hard-fought sales volume. The World's Largest Cobalt Dealer and the number one spot in the Top Ten Dealer awards went toSingleton Marine Group, Buford, Georgia. Singleton Marine Group is a family owned business and has been a Cobalt dealer since the 1996 model year. Philip, Linda, Austin and Michelle Singleton and their entire sales and customer care team have taken the Cobaltbrand and the Singleton customer experience to a very impressive level.
The remaining Top Ten Dealer awards, presented respectively:
Arrowhead Yacht Club & Boats Sales
Walker's Point Marina
Parks Marina
Slalom Shop
Premier Marine LLC
Seattle Boat Company
Gordy's Lakefront Marine
Strong's Marine LLC
Boat Town, Inc.
Also honored were the Customer Satisfaction Award recipients. Independent of sales volume and based solely on CSI scores, dealers must achieve 97 or above, out of a possible 100, in the last quarter of the model year. Cobalt recognized more than 50% of the dealer organiza-tion in the 2012 model year for their excellent CSI scores, their utilization of the information gleaned from the survey process and striving for continuous improvement in the services they offer.
Every year a single dealership receives an award which represents a special effort to ensure customer satisfaction and as a result increases their CSI score. The 2012 Most Improved CSI Award was presented to Nautiser-Centro Nautico, Palmela, Portugal.
The top CSI honors for the Central sales region was also the Worldwide CSI Award winner. This award was presented to Marine Sales of Pickwick, Counce, TN.
TheWestern Region CSI honors went to Legendary Marine, Destin, FL.
The Eastern Region CSI Award was presented to Rambo Marine, Hazel Green, AL.
The Regional CSI Award for International went to Brunnert Grimm, Gottlieben, Switzerland.
Rookie of the Year Award is given to the first year dealer with top ranking sales. The 2012 awardwas awarded to Boat Sul, Itajai, Brazil.
Cobalt Boats, LLC is a privately owned, world leading manufacturer of luxury family day boats, and is headquartered in Neodesha, KS. Thanks to our World Class Dealer Network, Cobalt has received the JD Power Award for Large Runabout CSI every year since 2001.