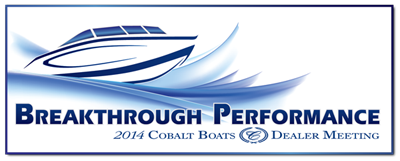 Cobalt Boats recently completed a very successful Worldwide Dealer Conference at the Vinoy Resort in St. Petersburg, FL. Over 350 Cobalt Dealer participants from across North America and other International locations traveled to St. Petersburg. "We are proud to have such a fantastic group of dealer partners join us as we celebrate a successful season" says Gavan Hunt, VP of Sales and Marketing at Cobalt Boats. "Our dealers provided us the opportunity to have a record-setting year at Cobalt, and our dealer meeting this year had the feel of a victory celebration."
In addition to the launch of the new 2014 Cobalt Boats, the top dealers were commended for their past year's accomplishments. Cobalt Boats is proud to announce the recipients of the 2013 model year dealer awards. This prestigious recognition of the outstanding dedication to customer satisfaction by the Cobalt dealers remains a key highlight to the company's annual dealer event. This year's awards for excellence in Customer Care, Cobalt Captain's Awards, Top Ten Dealers, Rookie of the Year and World's Largest Cobalt Dealer were presented during the meeting.
Cobalt's Customer Care Program, implemented in 1975, has proven to be a great tool in tracking product as well as dealer performance. Cobalt's newest refinement of the Customer Care Program, the Cobalt CSI Ambassador, utilizes Net Promoter Scores worldwide and focuses on the importance of customer referrals.
The Top Ten awards are based on a combination of the CSI score and hard-fought sales volume. The World's Largest Cobalt Dealer, the number one spot in the Top Ten Dealer awards, for the second year in a row, went to Cobalt Boats of Atlanta, LLC - Singleton Marine Group. Austin Singleton, Anthony Aisquith, and their team pride themselves on excellence during the entire sales and service experience.
The remaining Top Ten Dealer awards, presented respectively:
Arrowhead Yacht Club & Boat Sales
Slalom Shop
Gordy's Lakefront Marina
Park's Marina
Premier Marina Inc.
Seattle Boat Company
Boats by George
San Ramon Boat Center
Walker's Point Marina
Also honored were the Customer Satisfaction Award recipients based on the Cobalt Ambassador Scoring System. Cobalt recognized more than 71% of the dealer organization in the 2013 model year for their excellent CSI scores, their utilization of the Net Promoter System striving for continuous improvement in the services they offer and building business through satisfied customers.
Every year a single dealership receives an award which represents a special effort to ensure customer satisfaction and as a result, increases their CSI score.
The 2013 Most Improved CSI Award was presented to Boatcity – The Netherlands.
The top CSI honors for the Central sales region was also the Worldwide CSI Award winner. This award was presented to Gordy's Lakefront Marina, Lake Geneva, WS and Fox Lake, IL.
TheWestern Region CSI honors went to Great Lakes Marine, Littleton, CO.
The South Eastern CSI award went to Rambo Marine in Northern Alabama.