Cobalt Hosts Ride and Drive Event during Dealer Conference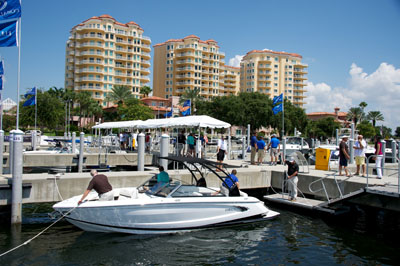 Cobalt Boats held a very successful "Ride and Drive" customer event at The Vinoy Renaissance in St. Petersburg, FL on Sunday, September 8, 2013. During the event there were 14 Cobalt boats available to demonstrate, and participants were able to take the helm of the Cobalt model of their choice as they experienced the award winning Cobalt ride. Over 200 invited guests were some of the first to take a sneak peek at the new 2014 boat line, which includes the Water Sport Series, Cruisers, SD Series, A Series and the R3 and R7 Bowriders. This amazing display of 2014 models was showcased by official Cobalt representatives, along with a team of technicians from Mercury and Volvo. "The event was an amazing success. It was such a pleasure to share the Cobalt story with customers from around the country at a convenient and luxurious location" said Gavan Hunt, VP of Sales and Marketing at Cobalt.
In conjunction with the event, Cobalt held its annual dealer meeting conference at the Vinoy Resort and Golf Club in St. Petersburg, Florida. The conference brought together dealers from across the globe to experience what's in store for the upcoming 2014 model year. The packed agenda featured a spectacular introduction of the new 2014 models aboard "Yacht Starship", Florida's largest dining yacht. Discussion centered on the new R Series introductions which included the R3, R5 WSS and R7. In addition, the 2014 model year will showcase the new 220S, featuring innovative seating design. Dealers were also enlightened by the dynamic keynote speech from Sam Dantzler, who shared key insights on sales strategies and critical issues facing today's recreational retailers.