Cobalt Boats Hosts Service School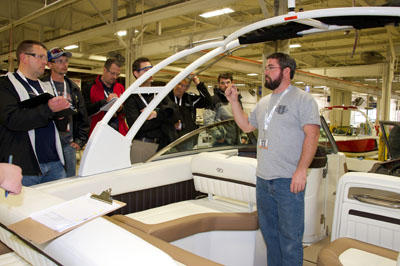 Cobalt Boats recently hosted its 2014 Cobalt University – Customer Service School in Neodesha, Kansas. Dealers worldwide traveled to Cobalt headquarters to listen in on the newest product and technical enhancements along with customer care training seminars. Both 2014 Cobalt Service Schools were completely "sold out" and were split into two groups of 130 dealer service professionals, both seasoned and new dealers participated.
Upon arrival at the Cobalt facility, dealers received an in-depth plant tour where they engaged in conversations and learned from the craftspeople that build and work to produce Cobalt boats. Participants were also invited to sit in on workshops focusing on important issues and the latest news regarding the industry. Panel discussions featuring Cobalt dealers and marine experts also honed in on topics regarding customer service and maintaining superior quality throughout the entire customer experience.
"The Cobalt team worked diligently to present key issues and concerns that matter most to our dealers," said Debbie Meigs, Customer Service Manager at Cobalt Boats. "Our goal is to have our participants leave Cobalt with knowledge that they can share with their dealership and customers back in their respective markets." Dealers were also treated with a Casino night held at the 4H building in Independence, Kansas where a steak dinner was served along with the opportunity to take home exclusive gifts which were graciously provided by Cobalt's vendor partners.
"Customer care drives the success of our company. Our service school is an investment in the team on the front lines caring for our Cobalt customers every day. It's always interesting at our service schools that we learn as much or more from this great group of professional people as we share with them in our seminars" said Paxson St. Clair, CEO of Cobalt Boats. Cobalt Boats would like to thank everyone who helped make this service school a great success.