Cobalt Remains the Only Boat Builder Ever to Rank "Highest in Customer Satisfaction" in the J.D. Power and Associates Study of Large Runabouts (20 – 29 feet)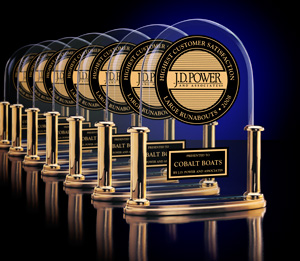 For the eighth consecutive year, large runabouts ( 20 to 29 feet) built by Cobalt Boats have ranked "highest in customer satisfaction" in the J.D. Power and Associates Boat Competitive Information Study. The 2009 study investigated owners' satisfaction with their runabouts throughout the sales, service, and product experiences. Again this year Cobalt owners gave their boats especially high marks in design and styling, ride and handling --the traditional strengths of Cobalt design and manufacture. Owners were also especially pleased with the boats' performance in water sports, a trend certain to continue this model years with Cobalt's recent introduction of the Water Sports Series, two boats configured precisely for wakeboarding and skiing.

"On behalf of our customers, dealers and our craftsman, all of us at Cobalt are honored in our eighth straight year of recognition from J.D. Power and Associates," said Cobalt's President Paxson St. Clair. "This recognition comes as a direct result of the skills and the integrity of our associates and our dealers. As the only company ever to earn the 'Highest in Customer Satisfaction' designation in the large runabout category, Cobalt has helped to lead the industry toward what, for more than forty years, has made us better boat-builders: listening to our customers. "

Headquartered in Westlake Village, Calif., J.D. Power and Associates is a global marketing information services company operating in key business sectors including market research, forecasting, performance improvement, training, and customer satisfaction. The company's quality and satisfaction measurements are based on responses from millions of consumers annually.