At Cobalt Boats we create the ultimate on the water lifestyle.
START THE YEAR WITH A NEW CAREER AT COBALT BOATS JOB FAIR
WHEN: DECEMBER 07 3:30 – 6:30PM
WHERE: 1715 N 8th St Neodesha, KS 66757
-Fast Pace Rate Increases-
-Quarterly Bonuses-
-Advancement Opportunities-
-Benefits (Medical, Dental, Vision)-
-Sign & Stay Bonus-
-Quality Driven-
-Teamwork-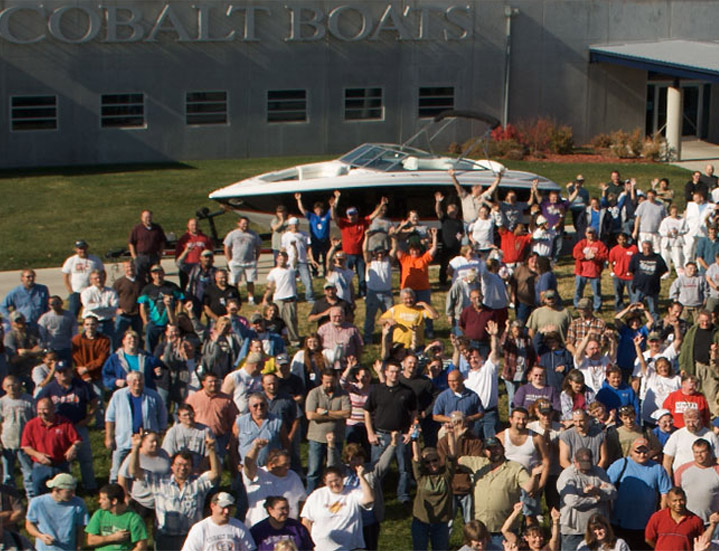 Join the Best Boat Builders in America
Our team of boat builders has the unique combination of craftsmanship, creativity, work ethic and passion that has resulted in Cobalt being recognized as the best made boats in America. We're always looking for more talented people to join our team. So if any of those attributes describe you, we'd love to hear from you.
What We Do
We build exceptional boats, and we've been doing it for 50 years. Founded in 1968, Cobalt is the market-share leader in stern-drive boats. We build boats that cover the diverse and evolving needs of our boating customers, from cruisers to runabouts to sport boats. We operate from Neodesha, Kansas, and maintain a strong dealer that stretches across North America and Europe.
Why Cobalt?
Cobalt has a 50-year history of passion, integrity, fairness and relentless work ethic, making it one of the leading employers in the region. Plus, with competitive compensation and benefit packages, we continue to attract the best talent, which has helped make Cobalt the leading brand in its category year after year.
Where We Work And Live
Our entire operation is located in Neodesha, Kansas, a town whose name derives from the Osage term for "where waters meet."Aptly named and going strong for more than 150 years, Neodesha touts a highly ranked school system, many family-centric amenities and some of the friendliest people you'll ever meet.