Cobalt Owner Assistance
August 21, 2023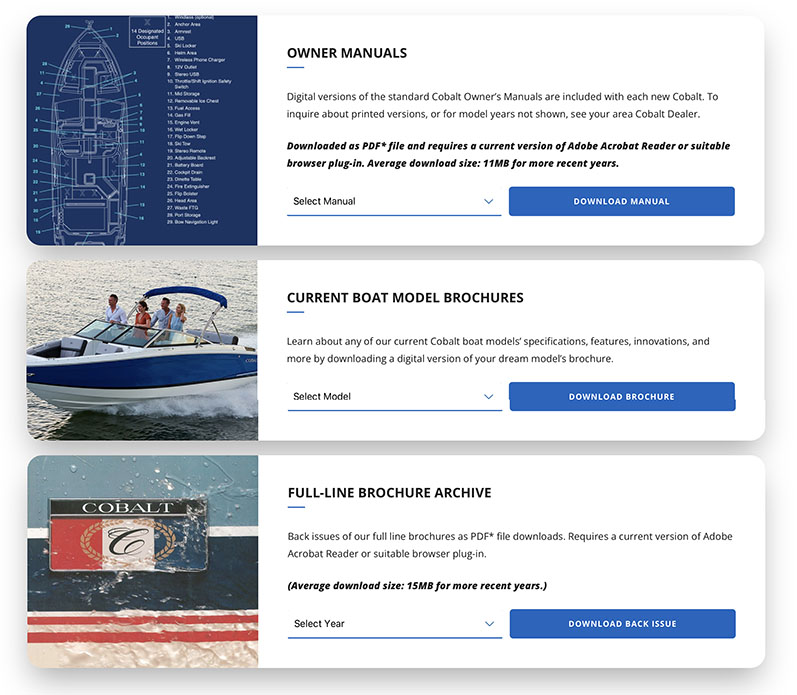 Come to the Cobalt Source
In addition to building high-quality day boats, our other objective here at Cobalt is to make sure you get the most pleasure from whichever model you own. That's why we post lots of helpful information on our website (www.cobaltboats.com/owners/) to provide Cobalt owners with the tools they need to really get to know their boat and to keep on enjoying it, season after season. In this section you'll find links and downloads for everything from warranty details and parts availability, to owner's manuals, FAQs, operating and maintenance tips, new technology and more, all complimentary and all in one place.
Start Here
A great place to start is the resources page, which covers information about all six of our factory warranties (10-year structural, 5-year bow-to-stern component, 3-year gelcoat finish, 1-year on inflatables and varying manufacturer-direct engine warranties, and service assist), including how to transfer them, along with downloadable owner's manuals for everything from the 2021 R Series all the way back to our 1973 models. For owners of classic Cobalt boats, students of history and true boating enthusiasts, there's even a library of brochures that dates back to 1972, also available for download. https://cobaltboats.com/owners/#resources

Boating Lore
We also have a dedicated page for boaters to learn tips from other boaters. Listed on the dropdown 'Owners' menu section as 'Knowledge Base', the categories here include 'Operation', 'Care & Maintenance', 'Systems & Features' and 'FAQs' (frequently asked questions), to save you the time, trouble and possible embarrassment of not knowing something. From stainless steel and chrome care to joystick docking techniques, you'll find this section to be a wealth of helpful intel. https://cobaltboats.com/owners/#knowledgebase
A Tradition of Innovation…
There's also an Explore menu drop-down entitled 'Cobalt Innovations' which offers details on Cobalt's many new and innovative boating features, such as our useful Zenith Tower; award-winning Splash & Stow inflatables deployment system; patent-pending E-Step electrically powered swim step; Sea Grass comfort floor covering; Fresco Chil vinyl; and many more. All in all, a good way to better understand how our innovations help your family and guests feel more comfortable every time they join you for a ride. https://cobaltboats.com/innovations/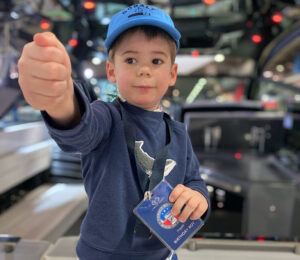 And Connection
Other sections share the unique stories of other Cobalt owners for you to enjoy, and give you a 'peek under the tent' with industry press announcements of recent boat models and other company news. There's even a link to CobaltSports.com to help you find the right activewear and accessories for your next voyage.
Would you like to know more about Cobalt? It's all here at the click of a mouse!
If you have a suggestion for other information you think would be helpful, we're interested! Contact us at https://cobaltboats.com/contact/ and we'll look for new ways to help you and other owners get more value and enjoyment from your Cobalt!