Cobalt Premieres its New Series-Topping R35 Sterndrive Luxury Runabout at the 2023 Miami International Boat Show
February 25, 2023
The largest R Series model ever designed, the yacht-certified R35Sterndrive delivers a commanding blend of performance, luxury and size.
NEODESHA, Kan., Feb. 15, 2023 (GLOBE NEWSWIRE) — Offering day boaters an evenlarger combination of style, comfort and convenience, premium luxurymanufacturer Cobalt Boats has announced the introduction of its all-new R35Sterndrive luxury runabout. With a 35' 4" LOA and 10' 10" beam, the R35 is an invitingspace for boating with family and friends, boasting impressive performance and along list of luxury features. The new top of the R-Series line was introduced last nightat a special invitation-only event in Miami that was also streamed live on Facebook.
Powered by your choice of Mercruiser or Volvo twin engines, the R35's elegantlysleek lines continue Cobalt's trend toward contemporary design, with a deep cockpitand greater freeboard for a more spacious interior and larger bow and cockpit areas.Standard amenities include a Garmin glass cockpit with multiple touchscreendisplays, ultra-fast USB-C charging stations, a wealth of storage space andcupholders, an integral swim step and a cabin that, along with sleeping,accommodates seating for use with a smart TV/music player/gaming console. Otherpremium options include a Harman Kardon premier marine audio system, a side-entry door, a Seakeeper gyroscopic stabilization system and Cobalt's patentedSplash & Stow inflatables management system.
New luxurious options for the R35 are an Auto Deploy Galley, complete with sink,microwave and electric grill, which rises from a solid bench seat at the touch of abutton; a Helm Watch display that offers passengers access to charts and cabincontrols on a dedicated Garmin screen; a built-in combination deep freezer/fridgewith an adjustable temperature range from 0 to 50 degrees; and a FLIR compactthermal camera that provides an added level of safety and situational awareness.
Show attendees will be given the opportunity to experience the stunning R35 Sterndrive in detail in the water at the Venetian Marina Slip ST300B. As an added bonus, a 'sneak preview' prototype of its soon-to-be-released companion, the R35 Outboard, can be seen at the Miami Convention Center on the show floor at Cobalt's booth, space MB530. More details can be found at this link: https://cobaltboats.com/explore/news-events/miami-international-boat-show/. As a convenience to Midwestern boaters, an R35 Sterndrive will also be displayed on February 15 at the Grand Rapids Boat Show in downtown Grand Rapids, MI, with details at this link: https://cobaltboats.com/explore/news-events/grand-rapids-boat-show/ 
"Designed to completely reimagine the day boating experience with its size, comfort and luxury, the new R35 Sterndrive is the epitome of R Series sophistication," said Jason Turner, Cobalt's President. "We're truly looking forward to unveiling this exciting new model to our dealers, their customers, the boating media and the rest of the world at the Miami International Boat Show." 
Currently in production, the new R35 Sterndrive is available through Cobalt's World Class Dealer Network. 
About Cobalt: Headquartered in Neodesha, KS, Cobalt Boats LLC, is a publicly owned, industry-leading manufacturer of luxury family day boats. Combining uncompromising product quality with customer-inspired innovation and value, Cobalt, a division of Malibu Boats, has earned an international reputation for unmatched customer satisfaction through its World Class Dealer Network. Learn more at www.cobaltboats.com.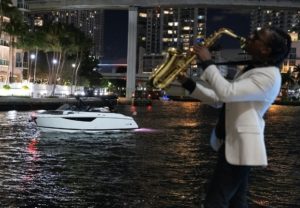 https://www.globenewswire.com/NewsRoom/AttachmentNg/ed9a695d-7fe4-426b-b8b8-b0a6777433c2