One Boat To Rule the Lake
December 9, 2021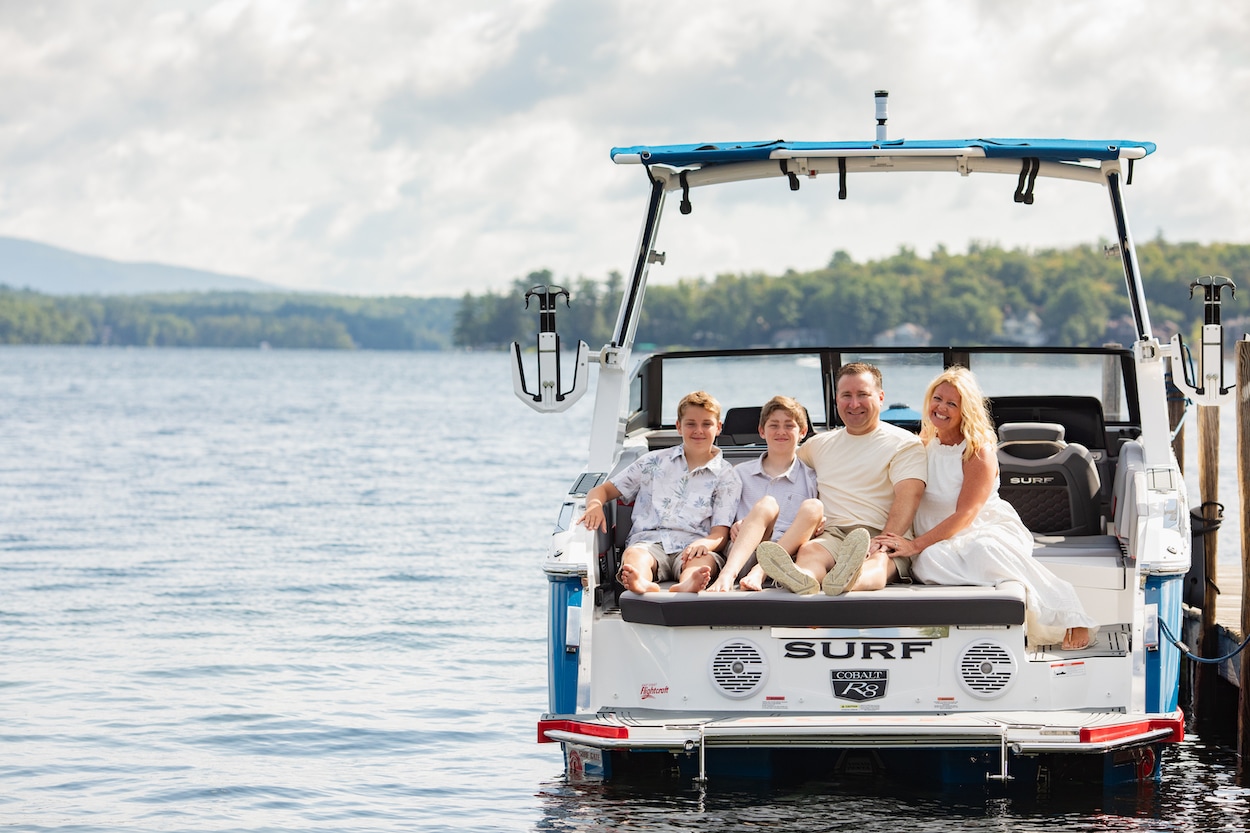 Surf boat or day boat?
What do you do if your family enjoys water sports, but also loves to spend summers and
weekends simply cruising the lake?
"Like a lot of folks, we wanted to be able to simply get up in the morning and go out wake surfing and boarding. But since our boating season is relatively short here in New Hampshire, we also wanted to spend as much time as possible doing other things on the water, such as exploring the beauty of Lake Winnipesaukee, which is a spectacular place," David said.
No Compromises
David had talked with other boaters who faced the same dilemma, many of them ending up with two boats dedicated to two different purposes, but he found a solution with the Cobalt R8 Surf.
"It's the ideal boat for us, with no need to compromise. If you want to surf a wave that's incredible, best wave ever, it's simply great for that. If you'd rather sit back, relax and take a ride with the family, it's great for that, too. Fill it with gas in the morning and you can do it all. Whether you're surfing the morning away, or taking a 15-20 mile ride in three-foot waves, the R8 handles it all easily, without compromising on anything," he noted.
Fulfilling a Dream
David and his family have spent more than 40 years on Lake Winnipesaukee, near his home in Meredith, NH, dating back to the 1970s when his parents rented a place there in the summers. Like most boaters, the family started with a smaller boat and, over the years, kept getting bigger ones to
meet their needs.
"You see a lot of Cobalts here on the East Coast, and they seemed to be everything we were looking for, with a great fit and finish, ideal as a family day boat and, of course, they were great-looking. We got our first one in 2017, an R7 that was very capable, but then we started getting into water sports and we moved up to the R8 Surf in 2019," he said. "It's the most comfortable, smooth-riding boat I've ever had, with an ideal layout to carry a lot of people and a lot of stuff – we have 15 people in our extended family, and we average 7-10 of us each weekend. Even with that many, the surf waves are the best, truly exceptional, which makes the R8 Surf our dream boat," he added.
A Family Centerpiece…
Although the Henrys' plans in 2020 were disrupted by the pandemic, they found the R8 Surf to be the perfect way to get everyone away, safely and comfortably.
"The R8 has been a real blessing with the COVID situation, becoming the centerpiece for our weekends and during the summer. It's where we can get the family together and spend time with each other, away from all the problems in the world. Summertime makes us happy, and the boat places you right in the middle of nature's beauty. We love our lake life, from the early-morning loon calls, to going on a surprise run to a dockside store for ice cream, to finding a special place to anchor," David noted.
And A New Tradition
Owning a Cobalt boat has become an enjoyable part of the Henry family's lake life, and David believes it will continue to be a favorite experience for generations.
"We have a new tradition of getting a take-out breakfast for everyone and then eating on the boat. This year, we did something like 50 breakfasts that way, along with many dinners, too. I think we were on the boat for 110 hours this past summer, even with the tremendous amount of rain we got in June," he said. "Sadly, just today I put the boat away for 2021, but we're already looking forward to the new boating season in 2022 on our R8."