Cruising Lake Michigan on a Cobalt with owners Bill & Sharon Umberger
August 1, 2023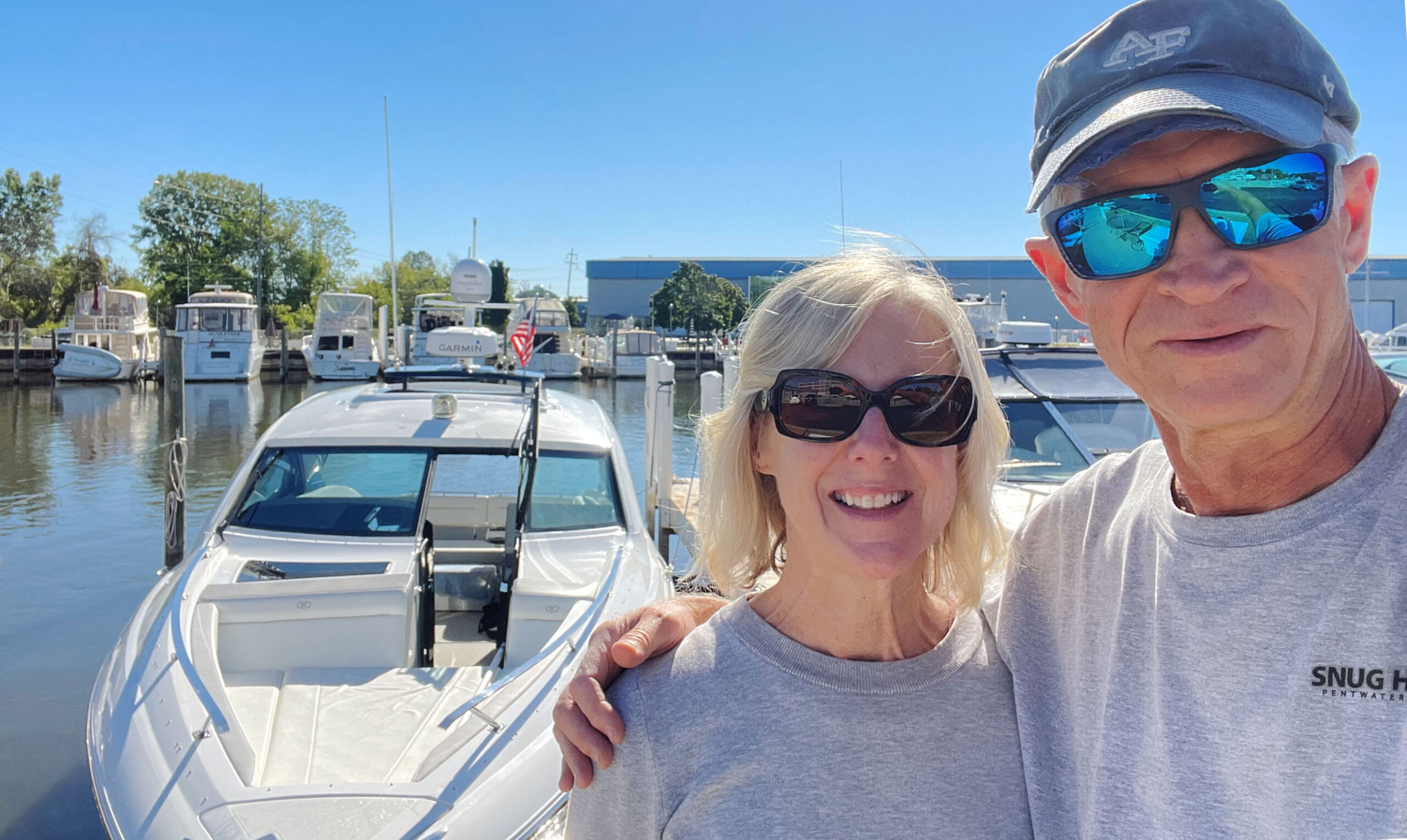 Hailing from Kalamazoo, Michigan, retirees Bill and Sharon Umberger are the proud owners of a 2019 Cobalt A36. The couple, who normally prefer to keep a low profile, unexpectedly found social media fame during a recent cruise which lit up the Cobalt Boats Facebook group. We sat down with this lovely couple to find out about their passion for family, boating, travel, and Lake Michigan.
Discovering Lake Michigan

Bill enjoyed a long and successful career as a Senior IT Director for the multinational Dana Corporation, during which the company requested that he and Sharon relocate to Michigan for business reasons in 2004. It was the couple's first experience living in Michigan and it wasn't long before they discovered the beauty of Lake Michigan. "We didn't realize how big the Great Lakes were!" Sharon recalled. "There were tons of little lakes near us, and after exploring those on shore, we soon realized how beautiful Lake Michigan is and how much more there must be to see via the water. We felt that owning a boat would give us the opportunity to see more of the lake."
Horsing around with the family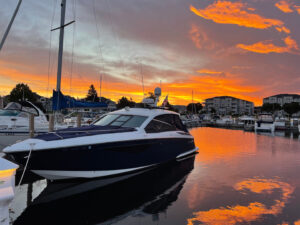 But first, the couple raised three beautiful children, one of whom soon took a liking to horse riding. The substantial cost and time investment of this hobby meant any plans to buy a boat and explore Lake Michigan initially had to be put on hold, as Bill recalled. "As a result of that, one of the barn names (a nickname) for the horse was 'Daddy's Boat'," he said, chuckling.
Boating was relatively new for Bill and Sharon. Bill had occasionally skied behind relatives' boats growing up–but owning a boat was a new experience for the couple.
Eventually, all three children grew up and left the home. In 2018, Bill retired from the Dana Corporation and Sharon retired from her successful career as a Special Education Teacher and Consultant. It was time for new adventures. It was time for a new boat.
The journey to their dream boat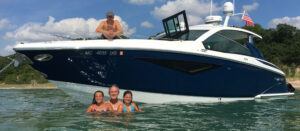 During his career, Bill did a lot of international travel for the company, with Sharon occasionally accompanying him. Those experiences cemented their passion for travel, and the couple saw boat ownership as a way to combine their love for travel and spending time with their family with the excitement of being on the water.
The Umbergers in fact already owned a 2014 Cobalt R3, which they had spent an amazing five seasons on. By the end of 2018 they were ready for a bigger boat that would be better equipped for their planned adventures on the water. "One day, our Cobalt dealer contacted us to tell us that they had a new model that had just come in and they invited us to come and demo it," said Bill.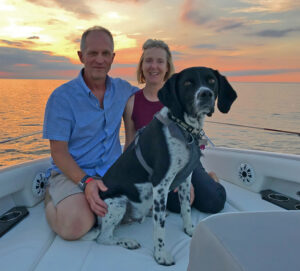 "I was scheduled to leave on a trip to Europe that day, so we hastily made plans for a demo that same day. The dealer took us for a ride on the boat–a new A36–and we were immediately impressed by the larger size and the additional capabilities over our R3."
Sharon agreed. "Yeah, they certainly knew how to impress us!" she said. "The looks of the boat immediately caught our attention. We saw it and we were like, "WOW!"
"I just remember thinking how cool the boat was! They're a great sales team," said Bill.
Signing on the dotted line
During Bill's trip to Europe, he spent a lot of time on the phone with Sharon discussing the A36 and comparing their opinions of it. They both agreed that accommodation for the two of them to stay overnight on the boat was a priority. Since the A36 offered this plus ample deck space, a large average beam and so much more, Bill and Sharon began to design their dream A36 with their Cobalt dealer, Action Water Sports of Hudsonville, Michigan.
The deal was soon signed and the Umbergers took delivery of their brand new Cobalt Boats A36 in April 2019.
It's all in the name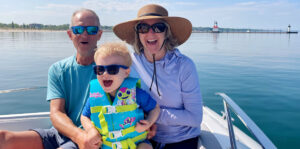 The Umbergers' new Cobalt A36 was proudly christened '…Blue Skies II'. While the II indicates this as being the couple's second boat to have carried the name, the name itself is deeply significant for the pair.
Years prior, their son Ryan had graduated from the US Air Force Academy. The journey through the academy had been fraught with physical, mental and emotional challenges that every cadet had to overcome, and the Umbergers had had a front row seat throughout. This made Ryan's graduation all the more triumphant.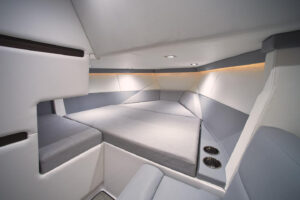 Bill had the opportunity to obtain an autograph from an Air Force Thunderbird pilot–also an academy graduate–when Ryan first entered the academy.  Dedicating the autograph in recognition of the challenges that Ryan would soon have to overcome, the pilot signed the autograph, "Ryan …Blue Skies."  Bill struggled to hold back his tears as he recounted the story. "The autograph has special meaning for Ryan because to get through the training is not easy; you have to go through a lot, and this pilot recognized that."
With their new Cobalt A36 now christened '…Blue Skies II', the couple was ready to begin their adventures across the Lake.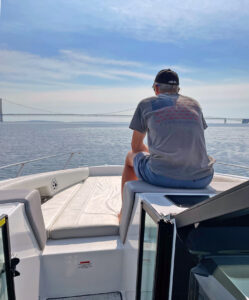 An epic adventure
In 2022, the Umbergers embarked on an epic cruise to explore Lake Michigan.
The trip, which encompassed a jaw-dropping 670 miles over Lake Michigan, took the couple three weeks. "We had to plan it quite carefully," said Bill. "We planned each leg, the routes, our fuel consumption, the marinas and ports we'd stay at and we reserved slips. It was quite a big deal for us since we weren't lifelong boaters, so we tried to learn from our local friends. Thankfully it all came together for us."
Of course, the couple slept on board their A36 throughout the trip, making the trip that much more convenient and affordable.
"There were beautiful views all along the way, with stunning coastlines. The water color is beautiful too – it's almost like Caribbean blue. Just stunning," recalled Bill. "And I remember the sunrises and sunsets; getting to see them every day was such a treat."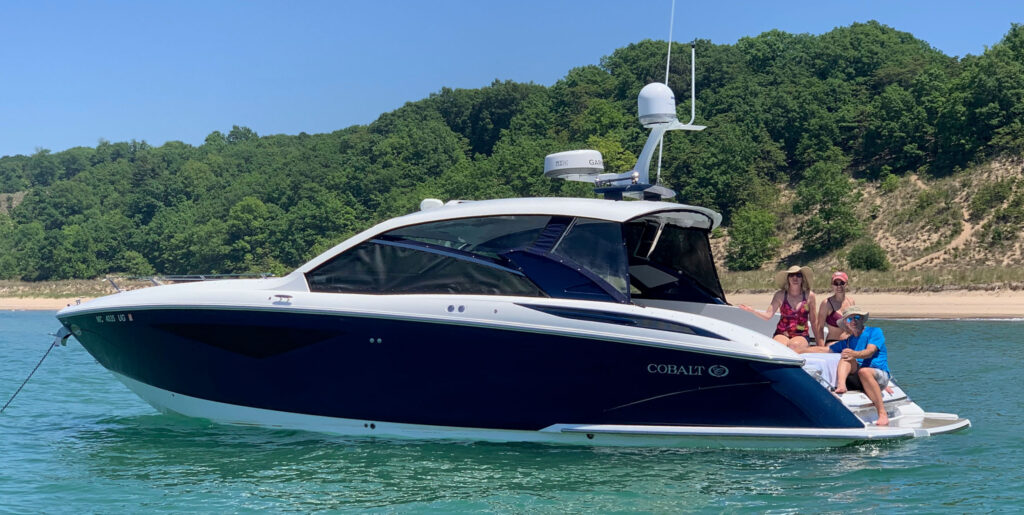 Cruising with a Cobalt
Bill emphasized the importance of respecting the Lake and its moods while cruising it. "It's very big; it basically has its own weather system," he explained. "But the boat performed really well. I'm especially impressed with the integrated electronics. At the helm station, there is so much information right there on the two screens. You can see whatever information you want with a single finger tap; that's pretty cool.
"We felt safe traveling on the boat, however we typically only travel when it's good weather," he added.
Riding Big waves
On one particularly long leg, …Blue Skies II proved its safety and supreme engineering during some unexpected rough water. "One leg was 80 or 90 miles, and during the last 20 miles, we ran into these big 4-6 foot waves. All of a sudden the waves just began changing and getting higher and higher, soon they were coming over the bow!"
"As I walked over to close the windshield hatch window, this wave came over and hit me right in the face!" Sharon recalled.
Despite the difficult conditions, the Umbergers reached their destination port. Once they were safely tied up, Sharon recalled saying to Bill, "I don't know how much Bourbon you have left on board, but I need a really good drink right now!"
Social Media Stardom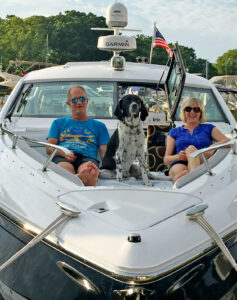 The Umbergers prefer to keep a low public profile, but recently found unexpected social media fame thanks to their big trip on Lake Michigan. "At the time, I posted about our voyage on the Cobalt Boats Facebook group page and suddenly I had like 300 people replying with questions and comments. I was answering questions every night and I thought it was really cool. We got so many questions that we decided to do a livestream which got 2,000 views! It was especially cool given that we're not bloggers, but it was fun to share our adventures and challenges!"
Michigan adventures
On average, the Umbergers drive their boat 40 times, put on 80 to 85 engine hours, and sleep onboard about 40 to 50 nights a season. The boat is typically moored at Saint Joseph in Michigan, so the couple's trips usually go either North or South from there, where they enjoy exploring the different beaches along the lake shore.
"We love to just hang out and take walks on the beach, looking for lake glass," said Sharon. "We bring our friends, family and our dog – who paddleboards! We enjoy taking them all out, going swimming and just having a good time on the water and on the beach. It's lots of good family fun!"
Features and good looks
The couple have even crossed to Chicago where they bought pizza and wine, as well as other trips 40-50 miles out to visit nearby lake towns. "We've been trying to hit them all," said Bill. "We've made a lot of dock friends during our trips!"
For all of their travels, Bill especially highlighted the convenience of an autopilot for longer trips like the ones they're doing. "I really like the navigation and autopilot capabilities; they keep you on course to a few feet left or right without having to manually steer, make the trip more efficient in terms of miles travelled and less fuel consumed, let you concentrate on other information, and make trips much easier!"
Both Bill and Sharon were keen to point out the A36's good looks – and the fact that it's not just them that thinks it's a head-turner. "We love the way it looks; it's very attractive. We get a lot of people looking at it and telling us how much they admire it," said Bill. "It's a very nice looking, sporty boat, and it has the speed to match the looks, too!"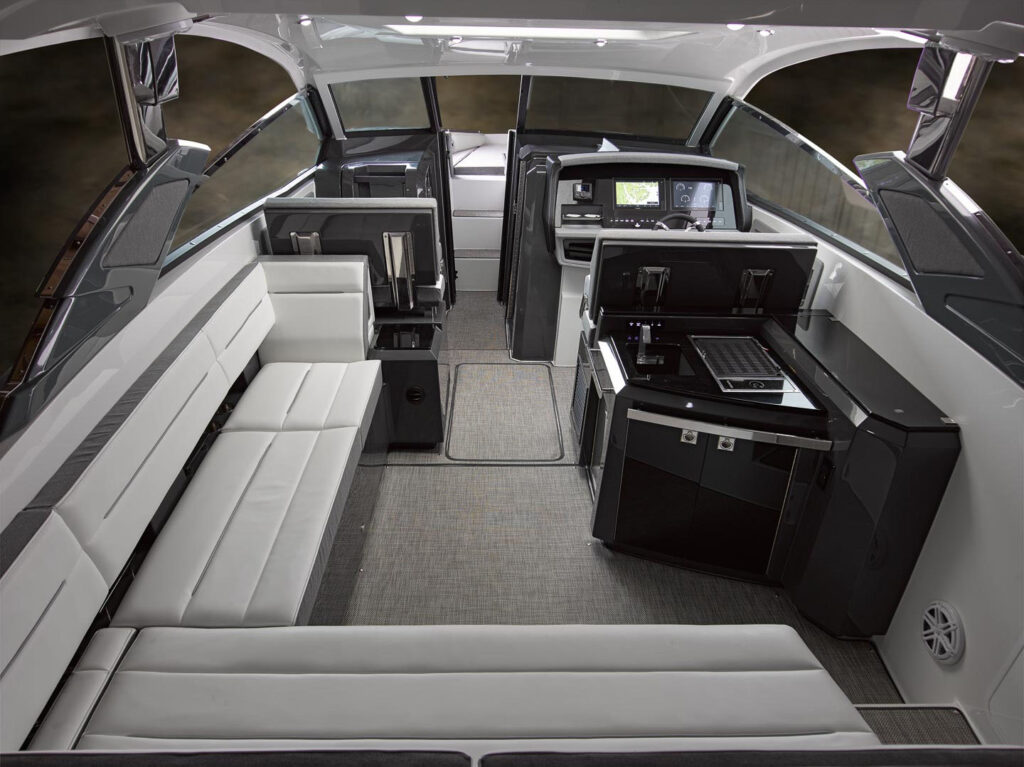 Experience Extraordinary
Ready to embark on an extraordinary journey with your very own Cobalt bowrider boat? Waste no time and get in touch with one of our nearest authorized Cobalt boat dealerships. They'll gladly take you on a tour of our premium Cobalt bowrider boats for sale, showcasing why they're considered the best value for your money and among the finest on the market.
Take the first step towards Cobalt boat ownership by contacting your nearest authorized Cobalt bowrider boats dealership today. Visit https://cobaltboats.com/dealer-locator/ and Experience Extraordinary with Cobalt Boats!