A Sensible Boating Decision
December 9, 2021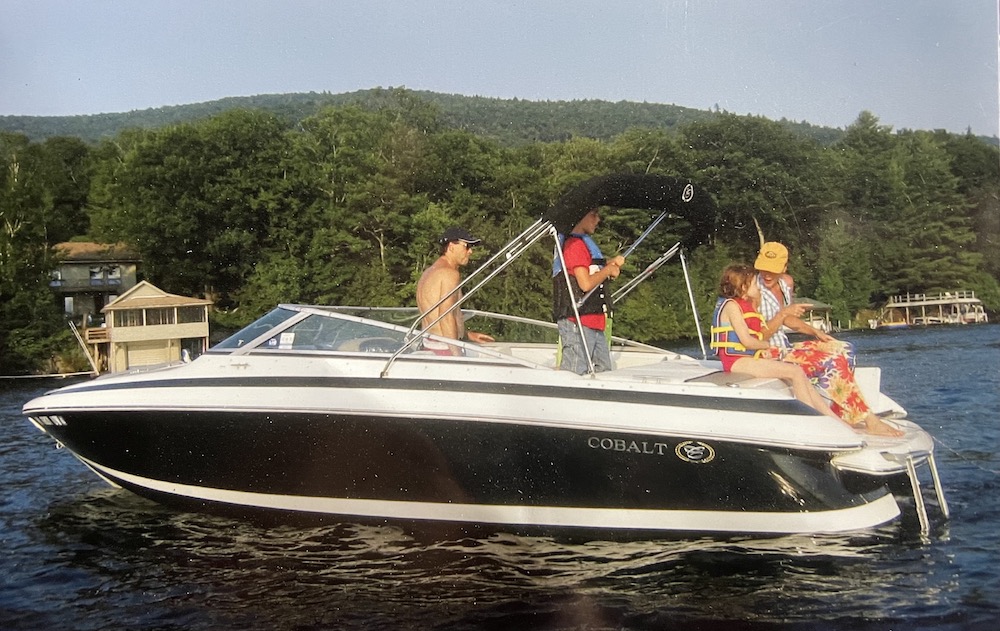 The Birthday Boat
Some people are very careful when they make major purchases, spending a great deal of time on research to be sure they're getting good value and will be happy with the result. This is a very sensible approach, usually leading to a smart purchase decision. This is the way Ty and Karen Moore typically operate.
"Well, when it came to buying our first Cobalt, I didn't do it that way," said Karen Moore. "Back in 2002, I wanted to get my husband Ty a new boat for his birthday. I was on the hunt, and I went to visit Boats By George, a dealership located near our summer home on Lake George, NY. The only complication was that I wanted the new boat to be not just a birthday present, but a surprise birthday present."
The Happy Boat Owner…
The Moores already had a boat, and Ty was very happy with it. So Karen asked George Pensel, the owner and namesake of Boats By George, if he would help her address the problem of finding a new boat for a currently happy owner.
"Initially, George suggested I look at a new model of another brand. But a few days later, he called to tell me about a completely different boat, one that he had just received in trade and was only a year old," she recalled. "Having seen that brand on the lake, I knew a little about its quality, so I went down to the showroom to take a look at it."
…Meets A Cobalt
Of course, the different boat was a Cobalt Model 227 and Karen was impressed. She still had the issue of what to do if Ty didn't like it, but Boats By George agreed to deliver it to let them try it, and to take it back – all at no charge – if Ty wasn't pleased.
"It was sleek, it was a beautiful black-and-white color scheme, and it looked brand new. The quality was excellent, of course, and it seemed like a good value. At that point, it just hit me that this was the right boat," she said.
"And this was before she had felt the wonderful ride," Ty added. "What she was saying was that she just had a feeling about the Cobalt, and that she knew me better than I knew myself, because I was sure I really didn't want a new boat."
A Second Birthday Surprise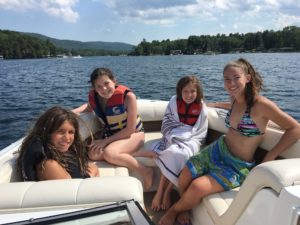 The plan was for Boats By George to deliver the Cobalt to the Moores' boathouse the day before Ty's birthday so Karen could surprise him the next morning, but there was a complication.
"I had everything set up, with the Cobalt's key pinned to a captain's cap inside a hatbox for Ty to open, and George was going to cover the boat with confetti and put a bottle of champagne in the ice bucket. But our 7'6"-wide boathouse was built in 1918, and the Cobalt had an 8' beam," Karen said.
"They delivered it to a neighbor's dock instead and we ended up taking it out for a ride, over my firm objection," said Ty. "Long story short, I've been known to buy other things after half a bottle of champagne, but this was definitely one of my best decisions. I had to get out my saws and do a little work to widen the boathouse, but it was all worthwhile, because I absolutely loved that boat. In fact, in 2009, when we needed more room, we bought a new Cobalt Model 232 bow rider – also with an 8' beam – which we still have."
The Boat Dealer Makes A Difference
Now Karen and Ty enjoy telling the story of how they fell in love with Cobalt, with due credit going all around.
"Karen made it happen by choosing such a great boat," Ty said, "But Boats By George went along with her request, agreeing to work with us to ensure we were both going to be happy."
"I don't know that every dealer would do that, but it made all the difference for us, and we've been loyal customers, referring other boaters to them and to Cobalt, ever since," echoed Karen.