Surf's Up!
November 14, 2022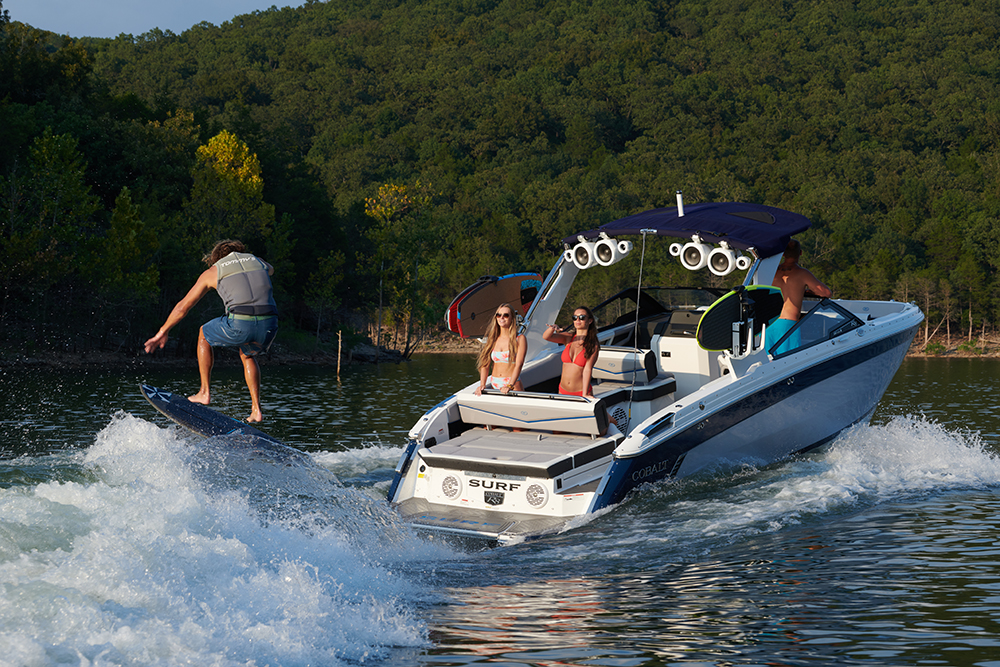 Fun, Fun, Fun
One of Cobalt's most popular new innovations is the Surf Series, comprising the CS23 Surf (23' 8" LOA), the R4 Surf (24' 3" LOA), the R6 Surf (25' 9") and the R8 Surf (27' 10"). All four boats are equipped with Cobalt SURF capability, which merges the smooth, award-winning Cobalt ride with our computer-controlled surf wave generator to deliver perfectly shaped waves – and perfect surfboard and wakeboard rides – all day long.
Owner Feedback, 1
Charles R.
"Now that Cobalt has come up with a surfing option, there is no need to own one of those ridiculously heavy and inefficient 'wakeboard boats.' We love having the quality and efficiency of a Cobalt AND being able to surf. It feels good to be back in a Cobalt."
Compromise Nothing
Many boaters told us they wanted to get up in the morning and immediately go wake- surfing and wakeboarding. But they also enjoyed spending the rest of the day on the water cruising, exploring and visiting restaurants and other lakeside destinations. Some even went to the extreme of buying different boats for different purposes, but with Cobalt's Surf Class, there's a better solution.
Owner Feedback, 2
"It's the ideal boat for us, with no need to compromise," said R8 Surf owner David H. "If you want to surf a wave that's incredible, best wave ever, it's simply great for that. If you'd rather sit back, relax and take a ride with the family, it's great for that, too. Fill it with gas in the morning and you can do it all. Whether you're surfing the morning away or taking a 20-mile ride in three-foot waves, the R8 handles it all easily, without compromising on anything.
Owner Feedback, 3
Horace L.
"Cobalt is one of only two surf boat brands that use the "forward" stern drive, which makes it as maneuverable as a regular stern drive (vs. a standard inboard as in the other surf boats.) The Cobalt reputation for quality and the deep vee hull for when you're done surfing and cruising with friends were significant selling points. Having a quality, high-end stern drive cruiser that also allows you to surf/wakeboard is a hard combination to surpass."
If you're interested in telling us about your surf boat experience, we're interested, too. Contact us and we'll be glad to pass along your thoughts!