Al Ohliger: Guarding the Coast With Cobalt
March 15, 2022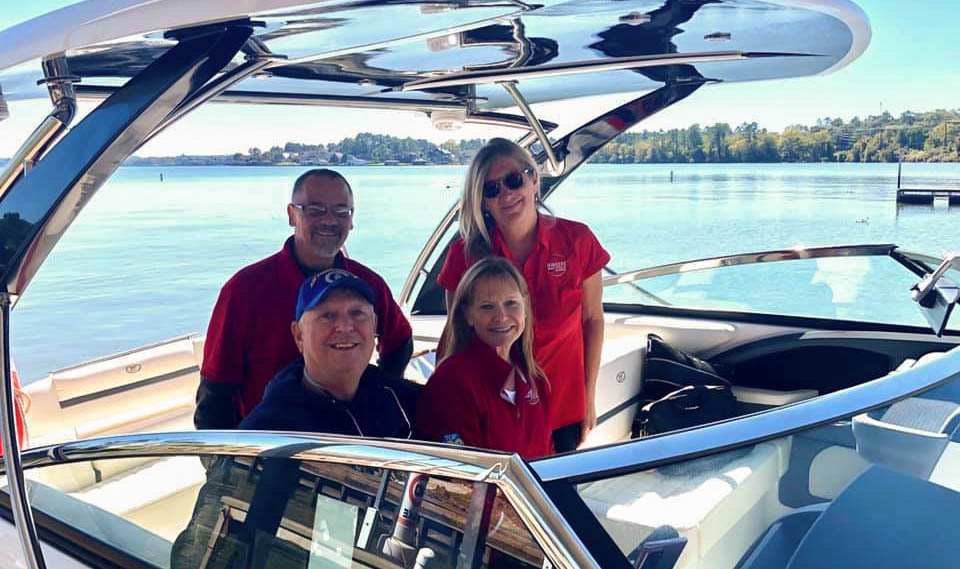 The All-Around Hobbyist
Al Ohliger is a busy man, keeping up with such hobbies as shooting, fishing, skiing and horseback riding to complement his longstanding traditions of boating and service to his community. 
"I'm retired from the U.S. Air Force, but first and foremost I'm a Cajun from the New Orleans area who grew up on Lake Pontchartrain, with canoes, kayaks, all kinds of small boats. I got my first real boat back in 1969, and it was a good way to spend time with the family. As my son and daughter grew older, I needed a bigger boat and bought my first Cobalt, a Model 220, in November of 2002," Al recounted. "One of my hobbies is volunteering with the Coast Guard Auxiliary, so the Cobalt was a great choice. Over the course of 25 years, I've owned four Cobalts, and I've used them for everything from rescue operations to the classes I teach on boating safety and open water ops." 
Cobalt for Smooth Handling
One of the things Al has always liked about his Cobalts – including the Model 220, a Model 24SD, a Model 243 and his new baby, an R30 he took delivery of from Rinkers Boat World near Lake Conroe, TX, in November of 2021 – is the way they handle.
"An interesting thing about them is that, unlike other boats that simply plane out at a certain speed, Cobalts slide into plane while adjusting to the waves, which is a great feature in different kinds of water," he explained. "It makes for a really smooth ride, and I get compliments all the time from the other volunteer crewmen I carry when we go out on patrol. It also helps when we have to assist the big Coast Guard boats in rescues, because my Cobalts are able to keep up with them."
Rescue at Sea With Cobalt
Al has received six citations for lifesaving during his Coast Guard tenure, some in extremely challenging circumstances and all in his Cobalt boats. He especially likes the way they perform and get up to speed into the wind, to quickly get to people in distress.
"One situation in particular involved a sailor who took his catamaran out alone in the ocean and got into trouble," Al said. "Caught in 20+ mph winds and rough seas, the cat had flipped over and he was in the water, nearly exhausted, by the time we found him. I was in my Model 24SD and, working together with a 28-ft. Coast Guard boat, we were able to coordinate a double-pull maneuver to turn the capsized cat back over, and save it along with the owner."
Cobalt Boats With Cajun Names
Even though he now lives in Texas, Al has made a point of proudly displaying his Cajun heritage via the names he's given his Cobalts.
"My first Cobalt was the Model 220, which I named the Cajun Cruiser," he said. "My next one, the 24D, was named the Bon Temps Cajun. I called my Model 243 the Cruise & Crawdads, and my new R30 is named C'est La Vie. Over the years, I've spent an average of 10 hrs. per month on every one of them, and among the many reasons I love Cobalt boats is that they're reliable and durable, as well as being safe and easy to operate."
Cobalts for the Whole Family
Devoted to his family as well as his Cobalts, Al has kept close to both by passing down his previous boats to his children.
"My son Michael has the Bon Temps Cajun now, which I still get to enjoy with him and his family on Lake Conroe," he noted. "And my daughter and her husband, Angela and Mike Hobbs, have the Cajun Cruiser as their family boat on Lake Travis, near Austin. I have seven grandchildren with another on the way, so safety is a priority, and when they're on the water, I want them all in a Cobalt."