Rob Foster: Discovering the Boating Lifestyle
March 15, 2022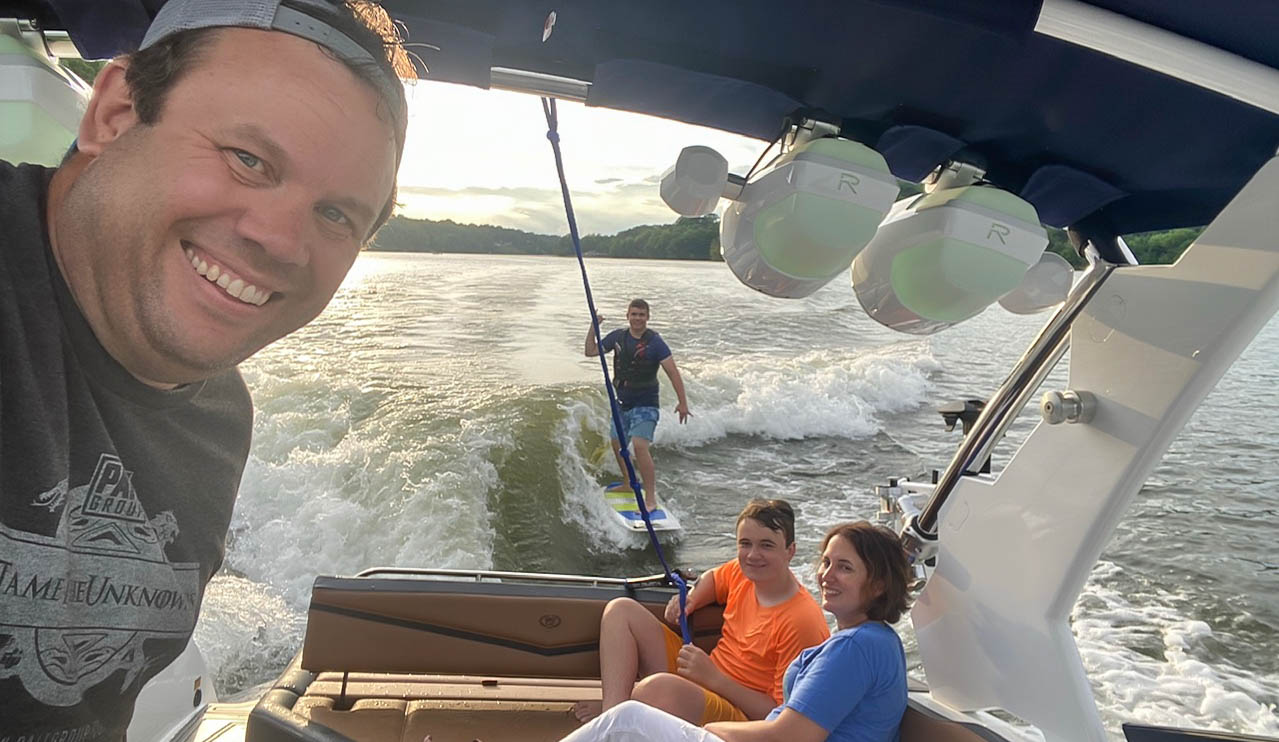 A Family of Boat Lovers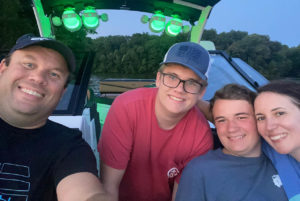 While many Cobalt owners are people who grew up on the water, Rob Foster is a recent convert to the pleasures of boating.
"We're not far from Tims Ford Lake in Tennessee, near Lynchburg, which many folks know from its being the home of a famous whiskey. I've had friends who had boats but until 2019, I never had a boat myself," Rob said. "That's when my wife, Leigh, and I decided we'd get a boat of our own and see if we liked it. We bought our first boat, a Chaparral, and it turned out the whole family – we have two teenaged sons, Andrew and Will – all loved boating, and we took to the boating lifestyle right away."
Overbuilt To Last
Although Rob started with one make of boat, he soon discovered another one that kept catching his eye.
"Chaparral is one of the brands carried by our local dealer, Modern Marine," he explained. "It was a good boat, but the more we were out on the lake, the more I started noticing Cobalt, the other brand that Modern Marine carried. I'd see new Cobalts that looked great, and old Cobalts that looked brand new, and the more I talked with boat owners around the lake, the more impressed I became with them, with the way they're built to last, even overbuilt. I mean, if you want a boat you'll only keep for five years and then sell it, a Cobalt will be great. Or if you want a boat you'll want for 25 or 30 years, well, a Cobalt is great for that, too. It was pretty clear that we could buy a Cobalt, keep it for as long as we needed and still get our money back."
Surfing the Lake
After that 'a-ha!' moment about Cobalt's value, it was only a matter of time before Rob and Leigh decided to get a Cobalt of their own, ordering an R6 Surf model in early 2021.
"I started searching online to learn more, and Cobalt owners share a wealth of information about boating, the lake and, of course, about their boats. So I got a pretty good idea of the type and size of Cobalt to consider, and what features and options we'd want for our family trips," he said. "The boys wanted to learn to surf, so we looked first at an R5, but the R6 Surf was an even better choice for us. It also had that incredibly smooth Cobalt ride, which makes a much better wave than on other brands, but we've been able to accommodate 15 people on the R6 and still have plenty of room."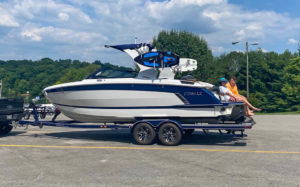 Joining the Cobalt Family
Another thing that's impressed Rob is the experience of actually owning a Cobalt.
"I found that Cobalt owners make you feel like you're part of a special community. They get together to talk boats, plan events, go to regattas, anything involving boating and the lake," Rob said. "People stop to look at our boat, introduce themselves, even take selfies with our R6. It's just a great conversation starter."
Rob found that camaraderie even extended to the Cobalt factory team. "I ordered a custom version of our R6 Surf, and had mentioned that fact in an online forum," Rob explained. "Shortly after, I got a message from one of the technicians working on my boat who asked if I wanted to see photos of it being built! He actually took time during his break to send me photos of the hull, the interior, the water test, every step as my Cobalt was being built. It's clear these people take enormous pride in their work, and it really shows in the finished product."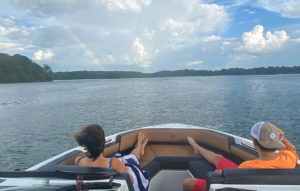 A Vacation Every Week
Rob and Leigh were aware that, with their sons graduating soon from high school, their time with Andrew and Will was limited.
"With just a few more years together, and knowing there'd be no shortage of the boys' friends who might join us, we upgraded the stereo to the Platinum package, complete with 18 powered Roswell speakers. It's absolutely the best sound I've ever heard on a boat, and it was well worth the extra cost," Rob noted.
But then another event occurred that made their Cobalt purchase even more significant. "When Covid hit, going out on the boat became the only way to get outside and have fun together. The lake was the safest place to be, and our boat let all of us to get away from work and school, take a break and just have some sanity on the weekends. To me, being on the lake in our Cobalt is like taking a family vacation every week."